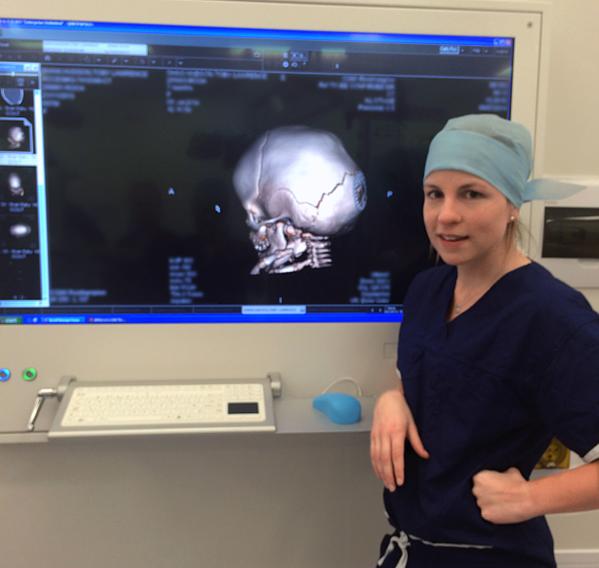 Dr Carly Fox realised a lifelong dream when she graduated with a Bachelor of Medicine in 2008.
However, when her father was diagnosed with melanoma at the age of 46 and died within a year, her career path took a detour.
Dr Fox will graduate with a Masters of Philosophy tomorrow from The University of Queensland after completing vital research into the early detection of the skin cancer that took her father's life.
"My dad always had a mole on his back and when he noticed that it had grown he went to his doctor who said it was nothing to worry about," Dr Fox said.
"It continued to change and eventually he had it removed. Tests proved it was an aggressive melanoma."
Dr Fox said early detection of melanoma was difficult but when it was diagnosed in its early stages, it was curable.
"A lot of research is focused on curing advanced melanoma, but to me the most powerful weapon against the disease would be a tool to detect the lesions very early, while they are still curable or before they become cancers," she said.
"My project was part of a larger investigation seeking methods to detect moles that are at high risk of transformation to melanoma, before they become cancerous.
"I had never worked in a lab before undertaking my Masters at UQ's Diamantina Institute, so that was a very, very steep learning curve.
"Professor Brian Gabrielli, head of the cancer program at UQDI, and his team were amazing in helping me around the lab environment and pointing me in the right direction when I was lost, which was often.
"Balancing clinical work as a doctor and laboratory work also was a challenge as I worked part-time in the plastic surgery unit at the Princess Alexandra Hospital while doing my research.
"This was useful because I could maintain my clinical skills and I was able to collect tumour samples from melanoma patients in the operating theatre and take them back to the lab for my research.
"Seeing the outcomes of our research implemented in clinical practice is obviously the Holy Grail, although we are not there yet.
"I look forward to working with the team at UDQI to make this a reality."
MEDIA: Dr Carly Fox, 0414 7987 627
UQDI Communications Manager Kate Templeman, +61 7 3443 7027 or 0409 916 801, k.templeman@uq.edu.au