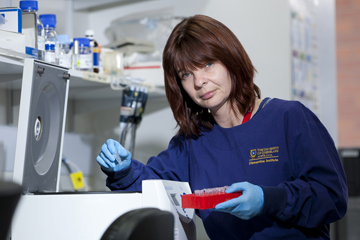 Researchers at The University of Queensland Diamantina Institute (UQDI) have developed a new predictive diagnostic test to determine patient response to a head and neck cancer treatment.
The research has led to the development of a therapy which could potentially increase the current success rate of patients who respond to treatment, ultimately causing non-responding patients to react positively.
Lead researcher Dr Fiona Simpson from UQDI, said the research brings particular hope for patients with an advanced form of the cancer.
They have already shown that the change of the epidermal growth factor receptor (EFGR) of a patient with non-melanoma skin cancer (or squamous cell carcinoma) indicates a strong correlation with tumour aggression and treatment response.
 "Currently, 70 per cent of advanced SCC patients fail treatment, suffer significant side-effects with no benefit at an average cost of $70,000 per patient," Dr Simpson said.
Dr Simpson and her research group have developed the technique to help predict which patients were at risk of not responding to current treatment.
"Advanced-stage SCC patients are treated with a combination of radiation and new targeted molecular therapies such as Cetuximab, an antibody which binds to the epidermal growth factor receptor (EGFR)," Dr Simpson said.
Collaborating with UQDI colleagues, Drs James Wells and Stephen Mattarollo - immunologists working with Professor Ian Frazer - the researchers have shown the receptor behaviour can change the response to Cetuximab by recruiting the immune system to step in and terminate the tumour cells.
"Having EGFR behave this way on the tumour surface allows patient tumours not only to stop growing (a response to EGFR signaling inhibition by Cetuximab), but to also shrink or regress as the immune system is recruited," Dr Simpson said.
Live tumour samples were collected and an imaging technique was developed to observe how EGFR performs in actual patient samples in real-time.
The Simpson group has recently filed two patents; one to test whether patient EGFR localisation status predicts patient outcomes in monoclonal antibody therapy, and the other to test a small molecule inhibitor in combination with Cetuximab.
"The idea is to alter the EGFR behavior for a short time to allow the immune system to be recruited," Dr Simpson said.
"This new approach could also be helpful in increasing response to many other monoclonal therapies, including Rituximab therapy in leukaemia."
More than 80,000 Australians are diagnosed with squamous cell carcinoma (SCC) each year, which is a non-melanoma, skin and head and neck cancer.
Queensland has the highest incidence of SCC in the world due to high risk UV-exposure, which is a cause of SCC development.
Treatment of SCC costs Australia a staggering $354million per year and will continue to be a significant burden to the economy.