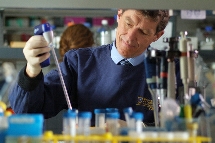 Professor Ian Frazer has been identified in the Top 50 vaccine personalities internationally through an online poll by Terrapinn.

Coming in at number 28, Professor Frazer who is CEO and Director of Research at Translational Research Institute (TRI), was recognised for his work on the development of the cervical cancer vaccine. 
The list recognises the 50 most influential people in vaccine development and personalities were handpicked based on career achievement, ground breaking discovery or innovation, funding, lifetime dedication or simply due to the inspiration of others. The Top 50 came from all areas including industry, governments, philanthropy, academia and even showbusiness.
Coming in at Number 1 was Bill Gates who's charity, The Bill and Melinda Gates Foundation, has demonstrated significant support for vaccinations and health. 
Terrapinn organise the largest B2B vaccine congresses in Europe, the US and Asia every year. Over the years the company has created a strong following and their community were invited to take part in the poll.
Terrapinn's audience who took part in the poll is made up of vaccine industry stakeholders ranging from government policy makers, public health organisations, pharmaceutical and biotech organisations, NRAs, NGOs and the wider research community involved in the regulation, research, development and supply of vaccines, both in the US and globally.
"The poll came about by realising there are a lot of 'Top People' lists out there and they always generate interest but there wasn't one for the vaccine world, or at least not one for in the last few years," said Maria Relaki who is Project Director for Terrapinn.
"We sent the question out to our networks and asked our audiences to name their top 3 vaccine personalities. Votes were counted and the final list compiled deservedly included Professor Frazer."  she said.
The full results can be found online. 
Further information on the Translational Research Institute can be found here: www.tri.edu.au