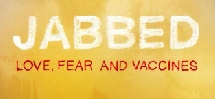 In a feature documentary by SBS airing Sunday the 26th of May at 8.30pm, Professor Ian Frazer AC provides expert insight as a leading figure in the vaccine world regarding the importance of immunisations.
In Washington DC, a boy gets a Polio vaccination and contracts the crippling disease. In Melbourne, a healthy six month old has his routine vaccinations and, soon after, becomes permanently brain damaged.

Meanwhile in France, a ten year old girl unwittingly starts a measles epidemic, resulting in over 15,000 cases and at least six deaths.
Stories about vaccination reactions are sending parents worldwide into a panic about immunising their children, yet there's no denying the risks to the wider community of choosing not to vaccinate.
Jabbed: Love, Fear and Vaccines presents a game-changing look at the controversial subject of vaccination. The special feature length documentary by Emmy award winning science director, Sonya Pemberton, delves into this divisive debate like never before, questioning whether vaccines are to blame when things go wrong or if there are other factors at play. Acknowledging and addressing the fears fuelling a growing trend of vaccine hesitancy around the world, Jabbed investigates the real cost of opting out.
In Australia, vaccination is currently widely accepted – more than 90 per cent of people support it and only two per cent oppose - but with stories about the potential risks of vaccine side effects receiving coverage and sparking heated debate, more parents are questioning whether vaccination is the best way to protect their loved ones. However, over half (53 per cent) of Australian parents have at least some concerns around vaccines and, while many vaccinate their children despite these concerns, eight per cent of parents delay or avoid vaccinating their children*.
Jabbed explores the reasons for complacency, closely examines concerns, and highlights the impact of delaying or refusing immunisation. Travelling the globe, tracking current epidemics ofpreventable diseases that many people thought had been wiped off the face of the earth, Jabbed looks at heartbreaking cases, reveals the latest science behind these life and death tales, and places them in a statistical and historical context.
Featuring interviews with experts including vaccine creators Professor Ian Frazer and Dr Paul Offit, immunology 'super-star' Sir Gustav Nossal, and Dr Peter Fisher, clinical director of the largest alternative health centre in Europe (and the Queen's personal homeopath), Jabbed combines respected insight from the world's leading figures in conventional and alternative medicine, with real life stories of families whose lives have been irrevocably impacted by immunisation. This powerful and confronting documentary will start a new conversation about vaccination.
Visit sbs.com.au/jabbed and follow the conversation on Twitter: #JabbedSBS
For more information and to arrange interviews, please contact:
Julieanne McCormack-Brown | t: 02 9430 3784 | m: 0417 414 680