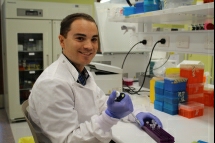 A vaccine to treat non-Hodgkin's lymphoma is one step closer after a University of Queensland Diamantina Institute researcher received a grant from the Leukaemia Foundation of Queensland.
Dr Stephen Mattarollo says the $100,000 grant enables further work to be done on a unique cancer vaccine being developed that links a molecule to tumour cells known to boost an immune response against the cancer by stimulating the activities of an immune cell population called Natural Killer T cells.
"This grant means we can continue our exciting research on investigating a new, therapeutic vaccine that we're developing for focusing on non-Hodgkin's lymphomas," he says.
The risk of developing Non-Hodgkin's lymphoma increases with age, with most patients being diagnosed in their 60s.
While patients usually respond well initially with traditional therapies such as chemotherapy and antibody based therapies, if they relapse these treatments aren't as effective.
Dr Mattarollo says that the target population for the vaccine are those patients who relapse and come down with treatment-resistant disease.
"We're investigating a vaccine that aims to stimulate a new or pre-existing immune response against the tumour,'' he says.
"What we're aiming to do is generate or re-invigorate an immune response targeting the lymphoma and the hope is to combine this new non-toxic therapy with the conventional therapies that are used in the clinic."
University of Queensland Diamantina Institute director Professor Matt Brown says the institute is delighted with the Leukaemia Foundation's support of Dr Mattarollo's outstanding research in the area of blood cancers.
"This builds strongly on UQDI's excellence in research in cancer genetics and immunological approaches to cancer treatment, as exemplified by the Gardasil vaccine," Professor Brown says.
Dr Mattarollo began this research in 2010 and is hoping to transition it from the lab to the patient within five years.
MEDIA: Contact: Kate Templeman, Communications and Marketing Manager, UQ Diamantina Institute, (07) 3443 7027, 0409 916 801 or k.templeman@uq.edu.au