University of Queensland researchers have found that freckles and moles appearing on the iris indicate a high risk of melanoma, particularly in people under 40 years of age.
Dermatology Research Centre's Associate Professor Rick Sturm said the presence of pigmented lesions was an effective predictor of the risk of melanoma that complemented traditional factors.
"We found the presence of three or more iris pigmented lesions was associated with a 45 percent increased risk of melanoma," Dr Sturm said.
"This association was particularly strong in people under 40.
"The presence of iris freckling and naevi (moles), provides additional information about an individual's melanoma risk over and above factors like blue eyes, red hair, fair skin and the number of moles on the skin."
The study, involving Professor H. Peter Soyer and Dr Antonia Laino, involved 1117 participants of European background living in South-East Queensland.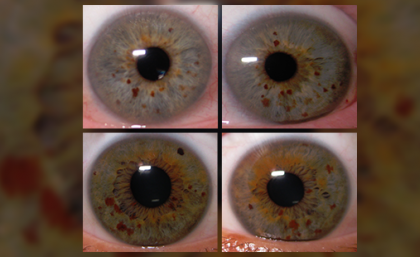 Dr Laino said the results showed that participants with pigmented lesions were 1.45 times more likely to develop melanoma.
"This association was particularly strong in people under 40, suggesting a genetic susceptibility," she said.
"It also suggests the potential use of these lesions as a marker for melanoma risk in younger patients (1.8 times more at risk).
"Melanoma is the most common cancer in Australians aged 15 to 39.
"Despite many new advances in treatments, long term prognosis remains poor, therefore early detection is still key in reducing the burden of the disease.
"It's very easy to look for iris pigmented lesions, and we hope that these findings will help doctors identify those people who may be at increased risk of melanoma and need a skin check."
"These lesions should be used as markers for melanoma risk in younger patients."
The UQ Diamantina Institute study is published in the British Journal of Dermatology.
Media: Associate Professor Rick Sturm, R.Sturm@uq.edu.au, +61 7 3443 7380: UQ Medicine, Kate Zischke, kate.zischke@uq.edu.au, +61 7 3365 5133.