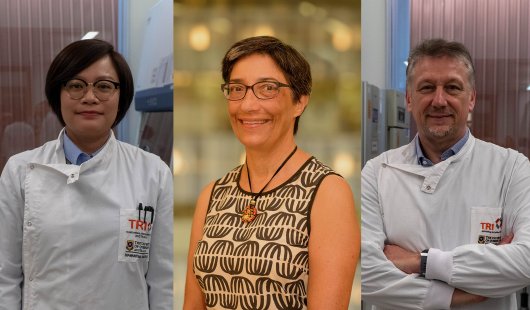 Four University of Queensland research projects have been named finalists in the 2018 Australian Museum Eureka Prizes.
The projects span tailored cancer vaccines, a new way to diagnose diabetes, a study on how the brain processes movement and monitoring of the world's biggest fish, the whale shark.
The prizes were established in 1990 to reward outstanding achievements in Australian science and science communication, and are Australia's most comprehensive national science awards.
The finalists are:
Johnson & Johnson Eureka Prize for Innovation in Medical Research
T1D Research Team – Professor Ranjeny Thomas, Dr Mark Harris and Ahmed Mehdi – The University of Queensland Diamantina Institute
Type 1 diabetes affects more than 120,000 Australians and usually occurs in childhood. Researchers found a way to identify infants who will go on to develop type 1 diabetes by examining the child's gene activation pattern early in life. The team found a seven-gene expression signature in infants that, when combined with genetic risk score, identified children with a high-risk of developing diabetes. This discovery could lead to the development of better screening tests to identify children at highest risk. More information here.
NEXGEVA – Professor Ranjeny Thomas, Professor Riccardo Dolcetti and Dr Bijun Zeng – The University of Queensland Diamantina Institute
Researchers have developed a vaccine delivery technology that enables treatment to be tailored precisely for different cancers. By using tailored NanoEmulsions, tiny carrier packages that encapsulate proteins made only by cancer cells, the immune system can be educated about cancer proteins. This approach represents a precision cancer treatment strategy which stimulates the immune system to attack cancer cells without affecting other cells in the body. More information here.
UNSW Eureka Prize for excellence in Interdisciplinary Scientific Research
Optical Physics in Neuroscience  – Associate Professor Ethan Scott, Professor Halina Rubinsztein-Dunlop and Dr Itia Favre-Bulle – Faculty of Medicine - School of Biomedical Sciences, and Faculty of Science - School of Mathematics and Physics.
In an effort to better understand how the brain processes movement, the team applied optical physics techniques to zebrafish, a popular model system for neuroscience. The vestibular system detects gravity and motion, and normally requires movement to be stimulated. The team demonstrated that optical trapping, the use of focussed light to apply forces to very small targeted objects, could also stimulate the system. This allowed researchers to study a 'moving' brain that was totally stationary.
Department of Industry, Innovation and Science Eureka Prize for Innovation in Citizen Science.
Samantha Reynolds (UQ PhD student), ECOCEAN Inc.
The world's biggest fish, the whale shark, is becoming a little less mysterious. The ECOCEAN Whale Shark Research, Education and Conservation Project enables citizen scientists to collect identification data on whale sharks. The program involves community monitoring, photo identification, satellite tracking and star-mapping technology, helping researchers better understand the movements and ecology of this endangered species. It also delivers education outreach activities to engage school students and the community in marine conservation. This research could lead to the better protection of one of the world's most iconic marine species. More information here.
The 2018 Australian Museum Eureka Prizes will be announced at a gala award dinner at Sydney Town Hall on Wednesday 29 August 2018.
Media: UQ Faculty of Medicine Media, med.media@uq.edu.au, +61 7 3365 5133, Faculty of Science Media, Dominic Jarvis, +61 413 334 924.