A quantum physicist, genetic counsellor and sleep scientist from The University of Queensland have been recognised for their efforts to improve science literacy at the 2021 Queensland Young Tall Poppy Science Awards.
Physicist Dr Fabio Costa, genetic counsellor Dr Aideen McInerney-Leo and sleep epidemiologist Dr Yaqoot Fatima were among 12 Queensland scientists honoured at last night's award ceremony.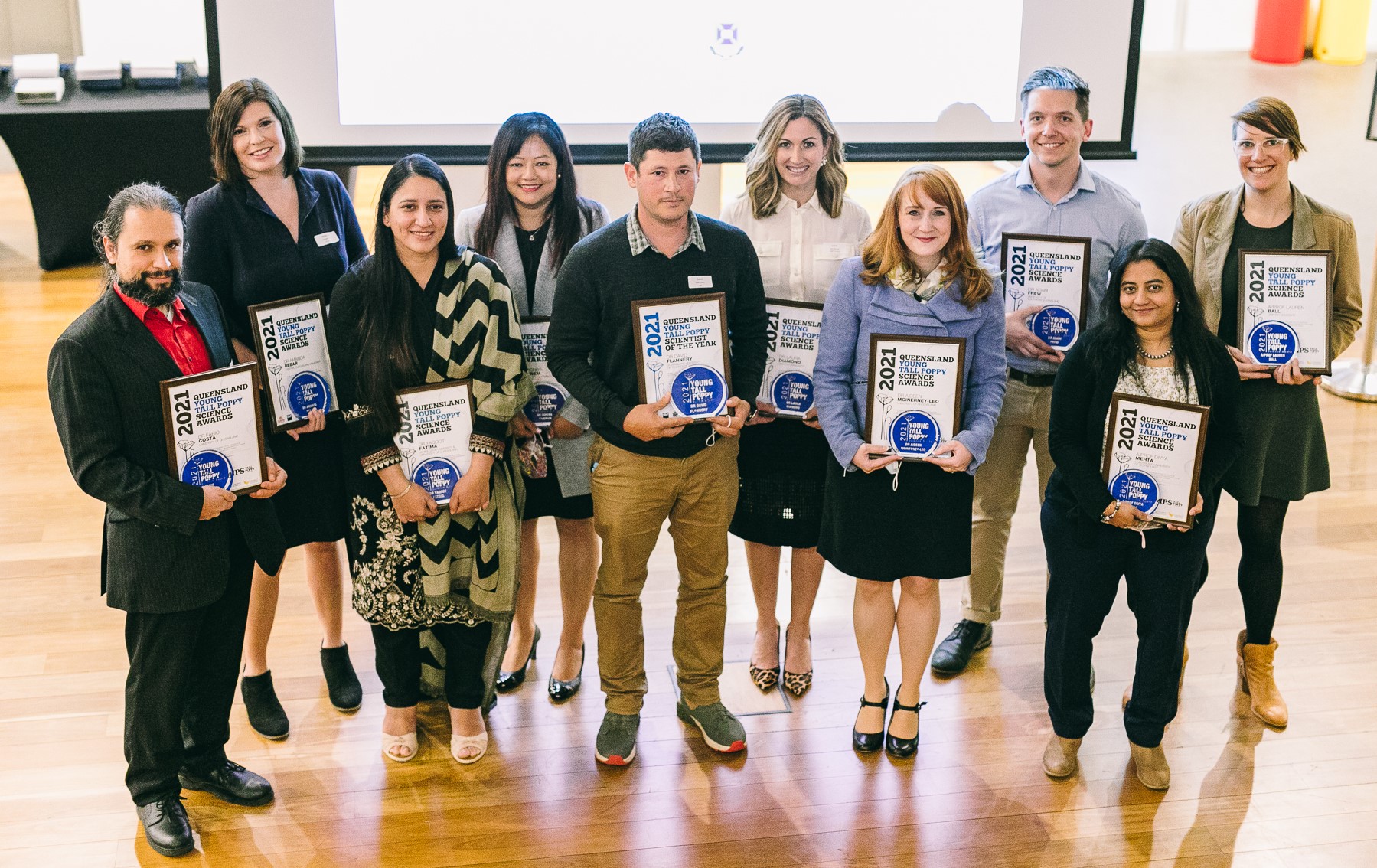 Dr Costa, who studies quantum physics, said it was incredibly rewarding to see his work recognised with an award that emphasised science communication.
"My research is quite abstract and it's often challenging to make it accessible to the broader public – I feel this award recognises my efforts and stimulates me to engage further," Dr Costa said. 
His mind-bending research investigates how fundamental physics overthrows some of the most basic concepts of our everyday experience, such as time and causality.
"I develop conceptual and mathematical tools to study extreme situations, not ruled out by physics, where time travel could become possible or where, due to quantum effects, time might lose meaning altogether," he said.
Genetic counsellor, Dr Aideen McInerney-Leo received her award for helping doctors and patients to navigate the complexity of genetic testing.
Dr McInerney-Leo said her previous research showed that many cancer clinicians had low confidence levels in their ability to talk to patients about genetic testing and explain test results.
"This confidence affects the number of genetic tests they order, and similarly, patients feel they have insufficient knowledge to make informed genetic testing decisions," she said.
Dr McInerney-Leo's genetic counselling services have helped patients with familial melanoma and rare diseases.
"Given the increasing demand for genetic testing, I train non-genetic clinicians, so they feel more empowered to address genomic questions and concerns from patients," she said.
"I have been engaging with the public by giving talks to general practitioners, oncologists, dermatologists and nurses, answering their questions, and tailoring my presentations to their needs."
UQ's third recipient, epidemiologist and sleep scientist Dr Yaqoot Fatima, improves sleep health and empowers people to practice better sleep habits in rural, remote, and Indigenous populations. 
She said there had been a significant increase in the prevalence of poor sleep over the years.
"Unfortunately, many sleep problems remain undiagnosed and untreated due to the lack of awareness and appropriate services, resulting in a range of physical and mental health problems," Dr Fatima said.
"Through sleep health improvement, we can bring positive changes in community health, wellbeing, and productivity and significantly reduce the future burden of chronic conditions and mental health issues." 
UQ's 2021 Tall Poppy Award recipients will also participate in activities to promote science among school students, teachers and the broader community.
Media: Dr Fabio Costa, f.costa@uq.edu.au; Dominic.jarvis@uq.edu.au, +61 413 334 924; Dr Aideen McInerny-Leo, a.mcinerney@uq.edu.au; Faculty of Medicine, med.media@uq.edu.au, +61 7 3365 5118, +61 436 368 746; Dr Yaqoot Fatima, fatima.yaqoot@uq.edu.au, +61 457 024 222; Kristen Johnston, HASS Communications, (07) 3346 1633, k.johnston@uq.edu.au.