UQ researcher, Dr Emma-Anne Karlsen, has been recognised at the prestigious global event, Falling Walls Lab, in Berlin. The PhD student placed third out of 100 participants from 64 countries in the Science Breakthrough of the Year category, receiving praise for her research on repurposing a low-cost and pre-existing drug to help expensive anti-cancer treatments work better and to fight tumours more effectively.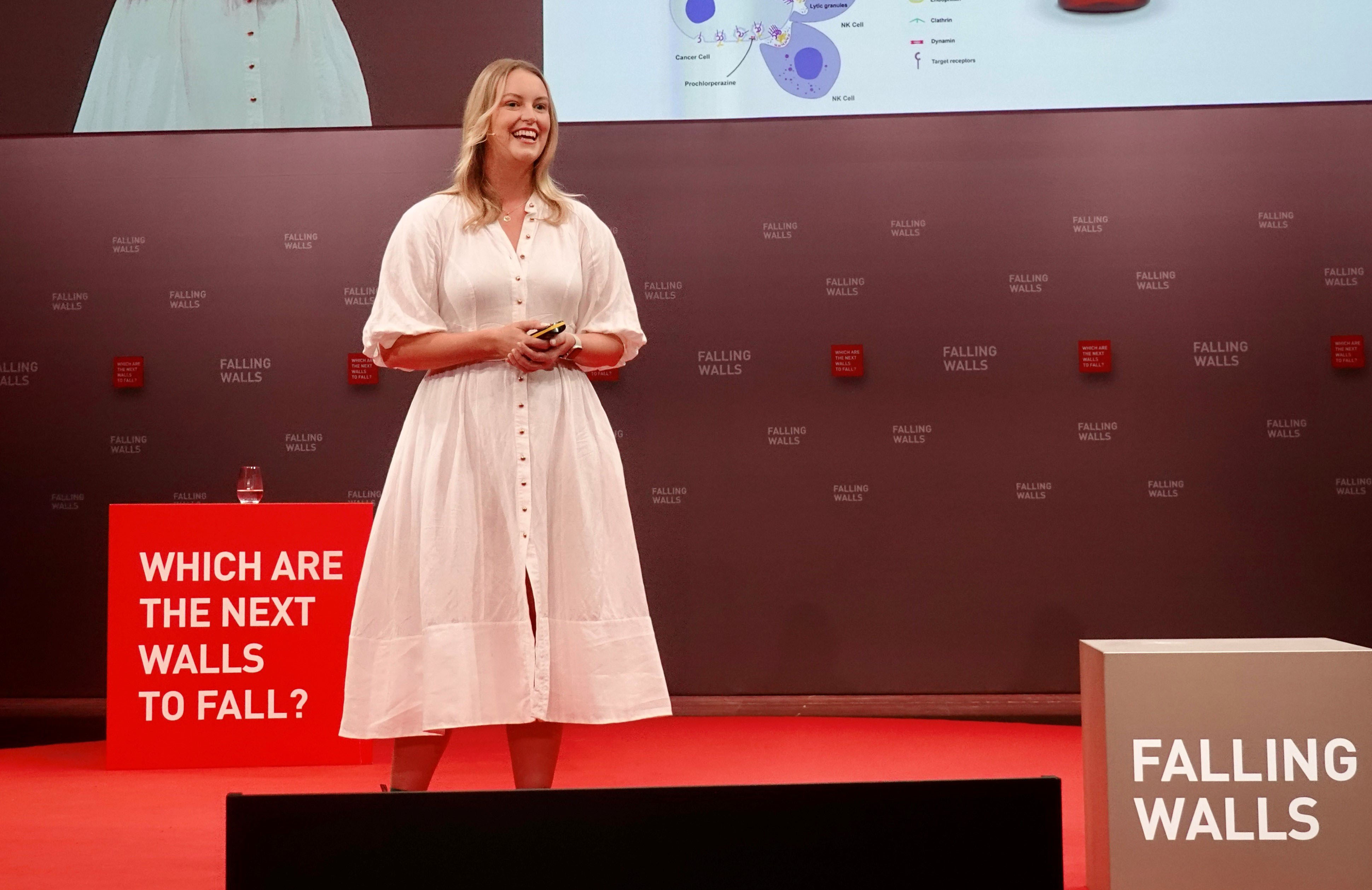 Alongside Dr Karlsen, this year's laureates are Joseph Bedard, Breaking the Wall of Alternative Plastics (Dalhousie University, Canada) and Yizhou Yu, Breaking the Wall of Dementia (University of Cambridge, UK).
Dr Karlsen is passionate about what improved cancer therapies will mean for her patients. If successful, her research could significantly improve the standard of care for patients with cancer throughout Australia. 
"Creating new medications can cost millions of dollars and can have a significant environmental impact. Instead, our solution involves reaching into our own pharmacies and repurposing a cheap medication to improve the monoclonal antibodies that we already have," Dr Karlsen said. 
"Falling Walls has been an incredible opportunity to learn from other countries and faculties on how we can tackle the largest issues facing our society today. It was an absolute privilege to represent UQ and the amazing work that Associate Professor Fiona Simpson and her lab is doing to improve outcomes for patients with cancer."
During her stay in Berlin, Dr Karlsen took part in an exclusive program that included a networking dinner, workshops on a broad range of topics such as career development, entrepreneurial skills, and academic publishing, and events hosted by prestigious German research organisations such as the German Research Foundation (DFG). 
Dr Karlsen won the Falling Walls Lab Brisbane event in late July, followed by two UQ researchers Hemanshi Galaiya and Sera Susan Jacob (pictured below). The three finalists travelled to Canberra in September to compete at the national finals. Dr Karlsen took out first place at the national competition while Ms Galaiya placed third, both earning a place at the global finals in Berlin.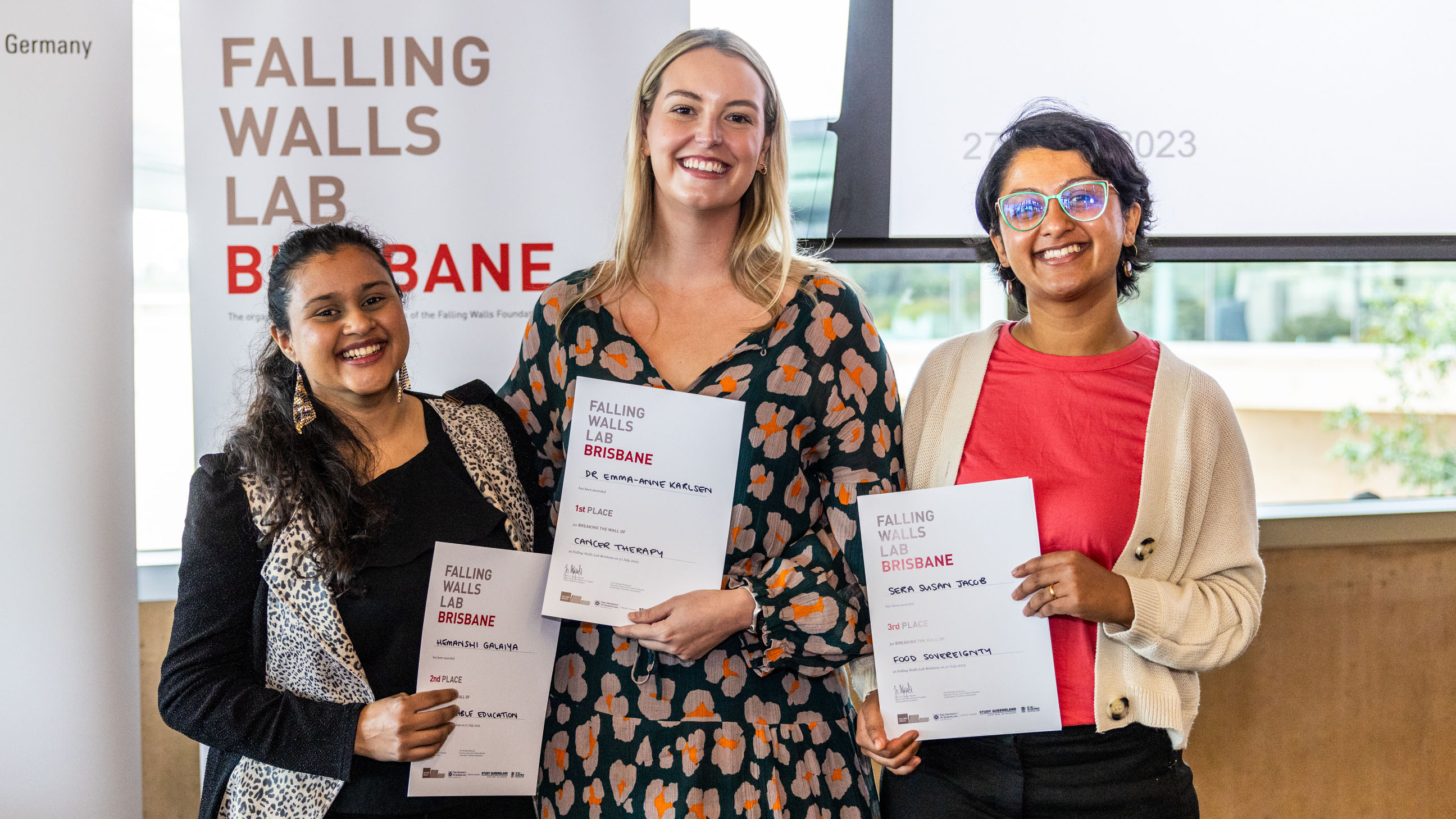 "So often in science we can be pigeonholed into our faculty and rarely get the chance to engage with other perspectives. This allows everyone, from diverse academic and cultural backgrounds to come together and discuss the problems that we're individually trying to tackle," Dr Karlsen said. 
Established 20 years after the fall of the Berlin Wall, Falling Walls is a global event dedicated to supporting science and the humanities. Innovative minds from across the world come together to discuss global challenges and their innovative solutions.
The world-class pitch competition and networking forum brings together a diverse and interdisciplinary pool of students and early-career professionals by providing a stage for breakthrough ideas both globally and locally. 
Dr Karlsen said the Falling Walls mission to "stand for the freedom of thought and scientific research, and for making ground-breaking ideas accessible to society" guides both her science and clinical practice, and attracted her to participate in the competition". 
"This event, in particular, was exceptional at creating an immediate network and community with like-minded researchers, all of whom were so passionate about translational and accessible science."
Falling Walls Lab Brisbane winners
First place
Dr Emma-Anne Karlsen
The University of Queensland
Breaking the wall of cancer therapy

Second place 
Hemanshi Galaiya
The University of Queensland
Breaking the wall of inequitable education

Third place
Sera Susan Jacob
The University of Queensland
Breaking the wall of food sovereignty
People's choice
Dr Jovanna Nathalie Cervantes Guzman
Queensland University of Technology
Breaking the wall of women entrepreneurship in bio & medtech