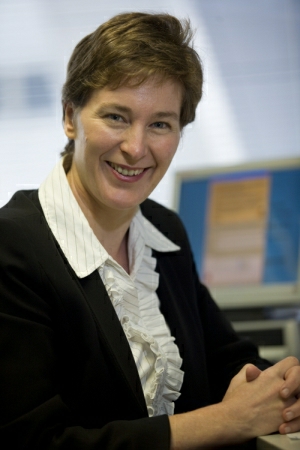 A University of Queensland Diamantina Institute researcher has been awarded one of the State's top science accolades at the Australian Society of Medical Research Queensland Health and Medical Research Awards.
Associate Professor Emma Duncan, who is based at the Royal Brisbane and Women's Hospital and has an adjunct appointment at UQDI, was named Clinical Researcher of the Year for her pivotal work in gene mapping - particularly for skeletal deformities.
Associate Professor Duncan and The UQ Centre for Clinical Genomics team, based at UQDI, successfully used a new gene-mapping approach for patients affected by severe skeletal abnormalities.
"We took new gene-sequencing technology and applied it to families with disorders of growth of the skeleton," Associate Professor Duncan says. "The patients and their families were identified by Associate Professor Andreas Zankl, who has established a bone dysplasia registry at The UQ Centre for Clinical Research.
"Traditional gene mapping methods, such as linkage, require quite large families with lots of people affected in multiple generations. But for some rare disorders, particularly those that make it difficult to have children, often there will be too few affected family members to map genes by these traditional means," she says.
The UQCCG team used next-generation sequencing to study patients and compare their exomes (the protein-coding section of the genes).
"With this technology, in a single experiment, we are able to sequence all the exomes of an individual. By looking at only a few affected individuals we have been able to identify the cause of several different skeletal dysplasias."
Associate Professor Duncan said these discoveries mean the possibility of new treatments to help patients with disease. Her work on genetics has been published in Nature Genetics, American Journal of Human Genetics and the Public Library of Science.
The RBWH and UQ Diamantina Institute researcher is thrilled with the announcement of the award.
"These sorts of breakthroughs only happen when clinicians and basic scientists can work together, translating these technology breakthroughs into new diagnostic and therapeutic options for patients."
"This award represents a lot of work by a lot of people, and I was very honoured to receive it on everyone's behalf."