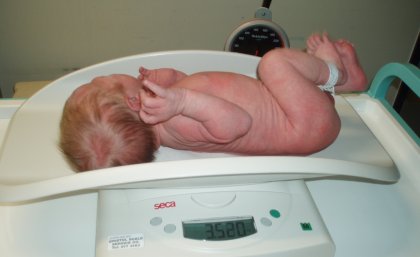 Genes can help explain why some babies have a low birth weight, a major international study jointly led by The University of Queensland has found.
Researchers from UQ's Diamantina Institute were part of a consortium from 17 countries that identified 60 genetic variants associated with birth weight, including 53 new variants.
Dr Nicole Warrington, joint lead author, said the study concluded that at least one sixth of the differences in birth weight between babies could be due to genetic variation.  
"Previous research has primarily focused on the nutrition available to the fetus and the environment provided by the mother, but this research shows it is more complicated than that," Dr Warrington said.
"Identifying these genetic variants is a big step towards understanding what is making some babies small.
"We will continue to gather more pieces of the puzzle to give us insight into how the genetic profiles of the mother and the baby act together to modify the baby's weight."
UQDI Head of Genomic Medicine and joint senior author of the study, Professor David Evans, said the genetic regions linked to low birth weight overlapped with those connected to an individual's chance of developing conditions such as type 2 diabetes and heart disease in later life.
"Ultimately we can now say there is some genetic link between birth weight and ill health later in life, but we need to further investigate whether it's mediated through the mother, her baby or both," Professor Evans said.
"Although the increased risk of later heart disease or diabetes is relatively small, these findings could be important in terms of future prevention and treatments for these growing health problems."
Researchers from the Universities of Exeter, Oxford, Bristol, Cambridge and the ERASMUS Medical Centre in Rotterdam led the study along with UQ.
The study analysed the genetic differences of almost 154,000 people and linked it to data on birth weight and previous studies on diabetes and heart disease.
The report is published in Nature.
Media contact: Dr Nicole Warrington, n.warrington@uq.edu.au; Professor David Evans, d.evans1@uq.edu.au; Bernadette O'Connor, bernadette.oconnor@uq.edu.au, 0431 533 209.