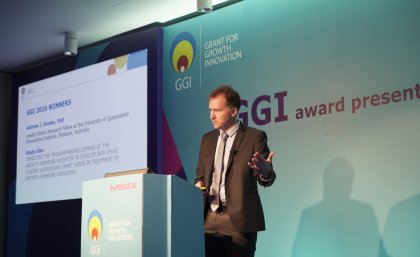 A University of Queensland researcher has received a prestigious international grant recognising his pioneering research into new treatments for growth disorders.
Dr Andrew Brooks from the UQ Diamantina Institute was one of three recipients in the Merck Grant for Growth Innovation program for 2016.
Dr Brooks said his research sought to develop new treatments for patients with growth disorders and for those who do not respond to appropriate existing drugs.
"This $196,000 grant will allow us to build on many years of work to better understand how growth hormone receptors receive signals and transmit them into cells to control how those cells behave," he said.
"Our research in this area has revealed the molecular mechanism of growth hormone signalling and uncovered a new target for therapeutic intervention.
"We will use this new information to develop drugs that bypass molecular defects that cause certain types of growth disorders including acromegaly and some growth hormone insensitivity disorders."
Dr Steven Hildemann from Merck's Biopharma business said it was inspiring to see the high quality and aspiration of the researchers who were awarded grants.
"We recognise that despite advances in treatment and management of growth disorders, we still require a better understanding of these diseases to address the high unmet medical need," Dr Hildemann said.
"Identifying and supporting forward thinking researchers in this field of growth follows Merck's scientific strategy of providing a platform that makes innovation possible."
There were 38 applications from 20 countries for this year's grants, with successful projects chosen by an independent committee of internationally renowned endocrinologists and researchers.
The GGI recipients were named during the 55th European Society for Pediatric Endocrinology Meeting in Paris.
Media: Dr Andrew Brooks, a.brooks@uq.edu.au, +61 7 3443 7071; Kim Lyell, UQ Faculty of Medicine, k.lyell@uq.edu.au, +61 7 33465214, 0427 530647.