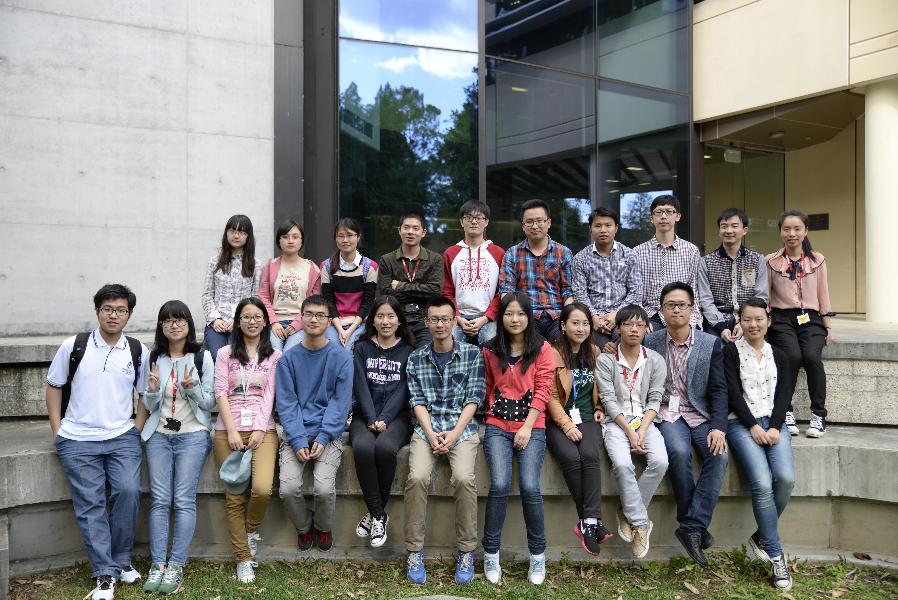 Research institutes at The University of Queensland (UQ) hosted 24 Chinese students from Fudan University and Wenzhou Medical College for six weeks, enabling closer ties between the institutions.
During July and August the students spent time working in the research laboratories at the UQ Diamantina Institute (UQDI), Queensland Brain Institute (QBI), Institute for Molecular Bioscience (IMB) and Australian Institute for Bioengineering and Nanotechnology (AIBN).
For many students this was their first time visiting Australia, and the experience left a lasting impression on them both personally and professionally.
Miss Lu Tang, a clinical medicine undergraduate student from Fudan University spent time in Dr Pascal Duijf's lab at UQDI, researching the impact of chromosome instability in cancer cells.
"The communication is much better here and there are many seminars to attend," Miss Tang said.
"To come back and do some research work here would be very good," she said.
Dr Pascal Duijf said the benefits of hosting a student are numerous. Most importantly the students gain a lot more hands on experience in the research laboratory environment.
Another student, Mr Xinyu Wang, an electronic engineering Masters student from Fudan University, was embedded in Associate Professor Ross Cunnington's lab at QBI, working on cognitive neuroscience.
"It's been a great experience, this is my first time in Australia and I would really enjoy coming back," Mr Wang said.
"During the past few weeks the opportunities we have had to talk to lab colleagues has been very beneficial, and we had some great experiences," he said.
Dr Gethin Thomas, Deputy Director Education at UQDI, organised the latest visit after first initiating the University of Queensland Biomedical Sciences Summer Research Scholarship Program in 2012.
Dr Thomas points to the growth of the program as a gauge of its success after having six students in the first pilot program.
"The program has grown to include Wenzhou Medical College this year for the first time.  This is testament to the program's value," Dr Thomas said.
"We see this as an opportunity to develop closer ties with these Chinese institutions, and broaden the horizons of these young people," he said.
"There is great value in creating collaborations, and by hosting these students we hope that they develop networks with Australian researchers that last well into the years ahead, benefiting both of our countries.
"In 2015 we hope to expand the scheme to incorporate three-month placements enabling students to include their time here as a formal part of their Chinese studies and enable more in-depth research projects to be undertaken.
"Now that the program has been running for two years we expect to see a steady stream of students returning to UQ to undertake PhD studies."
Media: UQDI Kate Templeman, 0409 916 801, k.templeman@uq.edu.au or QBI Darius Koreis, +61 7 3346 6353, d.koreis@uq.edu.au