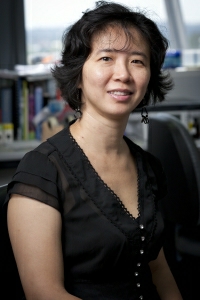 The University of Queensland Diamantina Institute's Dr Michelle hill has been announced a winner of a Australian Research Council (ARC) Future Fellowship to study the total cellular effect of cancer-associated changes in cellular membranes.  
Dr Hill received the Future Fellowship for her project which will generate a biological model for cellular membranes using computer programs, to assist with filtering relevant information from mass amounts of data.
The programs will allow Dr Hill to better understand how changes in single genes lead to global changes in cells. Further, the computer models will allow Dr Hill to identify suitable therapeutic targets and simulate the effects of blocking these targets in silico before performing laboratory experiments.
"Development and application of computational systems biology models will facilitate drug development by pre-selecting suitable targets before starting expensive laboratory and clinical studies," Dr Hill says.
Dr Hill is studying defective caveolin-1, which is associated with chronic, debilitating diseases including cancer and diabetes. Caveolin-1 alters cell function by changing the content and distribution of special cholesterol-rich membrane domains called lipid rafts. The project will develop a biological model of lipid raft function and model prostate cancer-associated caveolin-1 defect to help find new therapies.
Each year in Australia, close to 3,300 men die of prostate cancer, which is equal to the number of women who die from breast cancer annually*. Around 20,000 new cases are diagnosed in Australia every year. Dr Michelle Hill is eager to contribute to understanding the development of these diseases in order to help treatment and prevention.

"This timely Fellowship will allow my group to capitalise on the ground work that we have established so far at The University of Queensland Diamantina Institute, to add a computational modelling aspect to our research. I am exciting to be given the opportunity to take our cellular proteomics research to the next level, and develop computational models to predict outcomes of therapeutic interventions on the lipid raft function." Dr Hill said.
"The systems biology model to be developed in this project will be applied in translational research to understand how dysregulation of caveolin-1 and related proteins cause disease, and to identify novel therapeutic targets."
This research will greatly alleviate the national economic, health and social burden associated with these prevalent diseases. Caveolin dysregulation has been reported in almost every cancer and Dr Hill believes changes in lipid raft may be a general mechanism for the disease.
The ARC's Future Fellowships scheme is an Australian Government initiative to promote research in areas of critical national importance, by enabling outstanding Australian and international mid-career researchers to conduct their research in Australia.
Source: *Prostate Cancer Foundation Australia www.prostate.org.au