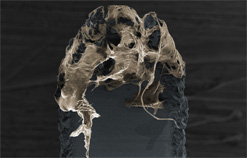 A strategic partnership between The University of Queensland and global pharmaceutical company LEO Pharma will investigate the genetic causes of squamous cell carcinoma, the world's second most common skin cancer.
UQ's reputation for ground-breaking skin cancer research, including a new method to screen for the genetic indicators of skin cancer, led to the partnership with LEO Pharma.
Australia has one of the highest incidences of squamous cell carcinoma in the world, with two in three Australians diagnosed with the disease by the time they are 70.
Deputy Vice-Chancellor (Research) Professor Max Lu said the collaboration was an exciting and significant development for UQ.
"The collaboration with LEO Pharma highlights the value that international pharmaceutical companies place on research at UQ," Professor Lu said.
"It is also advancing our strategy to become the most globally connected university in Australia.
"This industry partnership is making it possible for world-renowned researchers at UQ to work on a project which combines the University's strengths in dermatology and genetic sequencing," he said.
The research collaboration is the first study of its kind to examine the genetic changes that lead to skin cancer as it occurs. New data will be revealed about the basic causes of skin cancer and how mutations in skin cells lead to tumours.  
Professors Nick Saunders, Ian Frazer and Matt Brown from the UQ Diamantina Institute and Professor Peter Soyer and Dr Tarl Prow from UQ's School of Medicine will work together at the Translational Research Institute to determine which genes are responsible for squamous cell carcinoma.
"This project will teach us much about the basic causes of skin cancer, and how mutations in skin cells lead to these tumours. With this information, new and better treatments for skin cancers are likely to flow," said Professor Saunders.
"We're delighted to be working with LEO Pharma - a world-leading pharmaceutical company - which shares our special interest in skin cancers, the most common form of cancer to affect Australians," Professor Brown said.
Professor Soyer said the study would form a bridge between clinical dermatology, dermatopathology and high throughput genetic sequencing, allowing researchers to  follow a suspicious lesion as it turns malignant.
"Our clinico-pathological approach, coupled with Professor Brown's sequencing and bioinformatics expertise at the UQ Diamantina Institute and LEO Pharma's expertise in skin cancer therapy, will offer real solutions to skin cancer patients in Queensland and further afield," Professor Soyer said.
LEO Pharma A/S Vice President for New Product Discovery Dr Thorsten Thormann said the collaboration with UQ is part of the company's global strategy to join forces with innovative universities and biotech companies to break new ground in dermatology.
"We are always on the lookout for universities and companies which excel within dermatology and can add valuable knowledge and expertise to LEO Pharma's research and development activities," Dr Thormann said.
The three-year research collaboration was facilitated by UQ's research commercialisation company UniQuest.
Media: Caroline Davy, Marketing Manager, The University of Queensland Diamantina Institute, c.davy@uq.edu.au I 0431 658 934