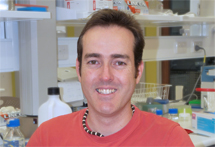 Professor David Evans has been awarded an esteemed Australian Research Council Future Fellowship for his work on the genetic basis of Ankylosing Spondylitis.
Evans received the four year Fellowship for his project which will use statistical methodologies to identify genetic and biological factors which predispose individuals to AS.
Ankylosing Spondylitis is a debilitating form of inflammatory arthritis. Highly heritable, the disease causes stiffness and progressive fusion of the spine and joints.
Approximately 4 in 1000 Australian adults are diagnosed with AS and it is three times more common in men than women.
Professor Evans' research is aimed at identifying the genes involved in the disease by using a new statistical framework which will be applied to thousands of patients who suffer from AS.
The method harnesses the power of genomics, using data on hundreds of thousands of molecular measurements that have been acquired from thousands of individuals.
Evans hopes his research will help identify biological molecules which can be targeted by drugs to treat or perhaps even cure disease.
"It's a great honour to be awarded this fellowship and I hope that I can use it to make some serious advances into understanding not only the causes of Ankylosing Spondylitis but other common complex diseases as well."
"Thousands of Australians suffer from Ankylosing Spondylitis and it is great to see research into this debilitating condition receive funding," Professor Evans said.
Professor Evans, who is Head of the Genomic Medicine program at the UQ Diamantina Institute, says the research will improve the understanding of the mechanisms of AS and help pave the way for new treatments.