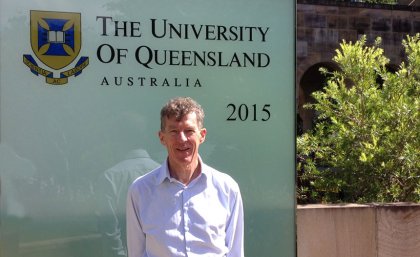 The University of Queensland's Professor Ian Frazer – hailed as "the man who saved a million lives" – has been named a finalist in the prestigious 2015 European Inventor Awards.
The awards acknowledge inventions that have made major contributions towards social, technological and economic progress.
Professor Frazer co-created the Gardasil cervical cancer vaccine with Dr Jian Zhou and has won more than 20 significant awards for his contributions to science, including being named an Australian National Living Treasure and Australian of the Year.
He was selected from 450 potential candidates to be one of 15 finalists for this year's European Inventor Award and has been nominated in the non-European countries category.
He is also a contender in the Popular Prize section, which will be decided by public vote. You can help him win this prize by voting here.
"I'm very honoured to be named a finalist in these respected awards," Professor Frazer said.
"Translating research into practical solutions is very important to me, and I believe the discoveries and research coming from Australia in the health and science fields are among the best in the world.
"Awards such as this promote that research on a global stage, hopefully inspiring others and encouraging collaboration across borders, leading to new innovations."
Professor Frazer, who was the founding CEO of Brisbane's Translational Research Institute (TRI) and chairs the TRI Foundation, is working on a vaccine for genital herpes, a virus that affects hundreds of thousands of people, threatens newborn babies and is believed to contribute to the development of HIV.
UQ Vice-Chancellor and President Professor Peter Høj congratulated Professor Frazer on his nomination and urged the public to show their support.
"Professor Frazer's achievements are a shining example of the innovative medical and health research UQ scientists are working on," he said.
"His projects not only benefit the local community, but have a lasting impact across the globe, with more than 144 million doses of Gardasil distributed in more than 100 countries since 2006.
"He is extremely deserving of this honour, and I encourage the community to support him by voting in the Popular Prize award."
The award winners will be announced in a ceremony in Paris on June 11. Don't forget to vote for Professor Ian Frazer online here.
Media: UQ Senior Communications Officer Katie Rowney, 3365 3439, Katie.Rowney@uq.edu.au;  TRI Communications and Marketing Director Louise Morland,  +61 7 344 37744 or  0417679306, louise.morland@tri.edu.au.