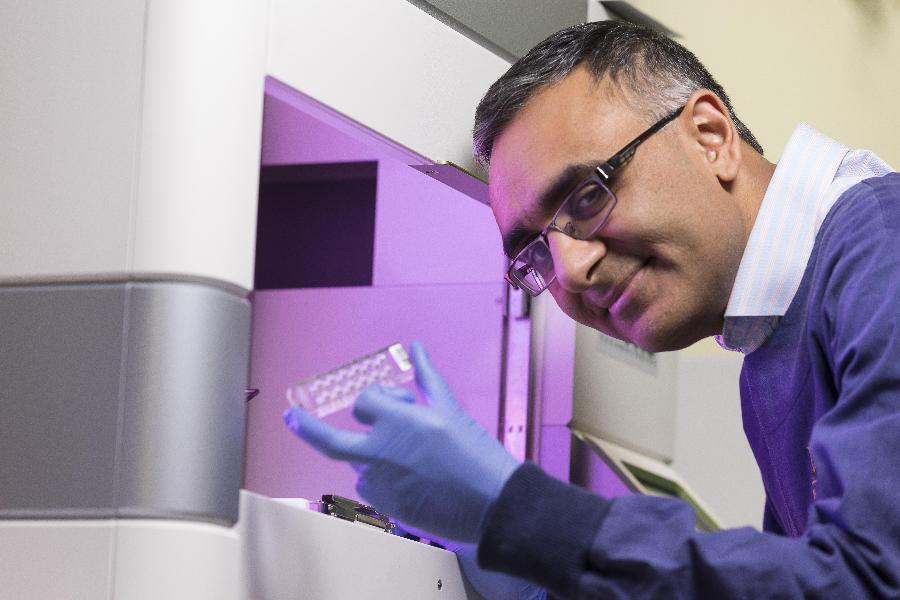 Research into blood cancer will be boosted with a new high-level appointment at the University of Queensland Diamantina Institute.
Haematologist Professor Maher Gandhi is the institute's new Leukaemia Foundation of Queensland Chair in Blood Cancer Research.
The position has been created to establish and coordinate a world-leading program in "near-patient" research into blood cancer.
Professor Maher said his research would aim to understand the basis of blood cancer.
"I will seek to devise less toxic and more effective treatments, to establish new biomarkers which will help determine the most effective treatment strategies, to monitor response and relapse, and to understand the development of blood cancers," he said.
Near-patient research involves clinicians treating patients in close proximity to their research laboratories.
One of Professor Maher's patients, Lorna, is a blood cancer survivor. She was diagnosed with brain lymphoma in 2006 and underwent extensive radiation and chemotherapy.
"I'm almost free now – I'm in remission," she said.
"It has been a difficult path. The treatment has extensive side effects – fatigue, insomnia, mood swings and headaches.
"But it is the extreme memory loss that had the greatest impact on my quality of life."
"Brain lymphoma is rare and extremely difficult to diagnose," Professor Gandhi said.
"Patients typically present once the cancer has advanced, and then their chances of survival are poor."
He said the new research program would bring improved diagnosis, treatment, cure and prevention for patients such as Lorna and others with blood cancers.
The Queensland State Government and the Leukaemia Foundation of Queensland will jointly fund the position.
Leukaemia Foundation of Queensland chief executive Bill Petch said the new research program was a great example of how government and non-government organisations could collaborate to deliver better health outcomes for Queenslanders.
"The Foundation's commitment of $1 million over five years is the first step in our plan to expand our investment across the research spectrum," Mr Petch said.
'The Leukaemia Foundation has a history of innovation in research and we see investments in the relatively new translational field as a way to move research one step closer to patients and deliver more effective treatments sooner.
"Six Queenslanders are diagnosed with a blood cancer each day, and thousands are living with it.
"We're all about finding the best possible treatment options to save their lives.
"We look forward to working closely with Professor Gandhi and UQ Diamantina Institute at TRI, along with our other research partners across the state to achieve this," Mr Petch said.
Media: Kate Templeman, 0409 916 801, k.templeman@uq.edu.au.
The Leukaemia Foundation of Queensland is a not-for-profit organisation with a 40-year history of supporting patients living with leukaemia, lymphoma, myeloma and related blood disorders – free of charge – as well as funding research to find improved treatments and ultimately cures.